MAGAZINES OF THE COMIC BOOM (FOR ADULTS)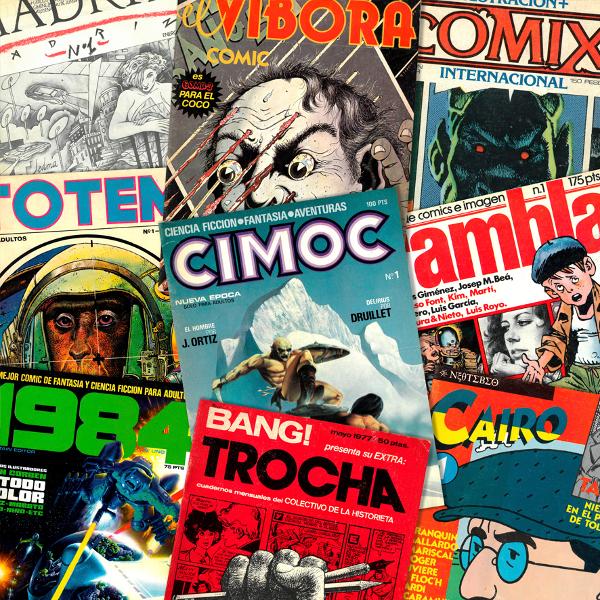 With the publication in Spain of the comic Totem, what was known as the "adult comic boom" began. Although comic books targeting older readers were being published since 1968, it was the arrival of democracy and the end of censorship when adult comics finally found their audience in Spain.
Between 1977 and the early nineties, the adult comic format was not merely a success in terms of sales, but it also meant great comics and the best authors were being published here - European, Latin American, North American but above all Spanish.
Basically, between the late seventies and all through the eighties, dozens of titles came out of quite diverse tendencies, containing high quality comic strips by authors of
extremely diverse styles, from the more realist school to the underground, taking in very personal or aesthetic creators like those known as "clear line". It was the time of those magazines well-remembered today by various generations of Spanish readers, such as: 1984, El Víbora, Bésame Mucho, Comix Internacional, Creepy, Cimoc, Cairo, Rambla, Makoki, Metropol, Madriz, Zona 84, TMEO and Kiss Comix.
Now that 40 years have passed since this "boom", the Barcelona International Comic Fair would like to pay homage to it and remember this phenomenon that made its mark on the development of the Spanish comic. The exhibition "Magazines of the Comic Boom (for Adults)" is set out in two parts. In the first we'll recall the precedents to these publications as well as authors and publishers of the magazines that led this "boom", with texts and reproductions. In the second part we'll offer a selection of the work published in these magazines by 53 Spanish authors, both men and women, each with two examples of their original work; it will cover all the aesthetic, graphic and narrative tendencies that helped to take the history of the Spanish comic forward at this time. Aexhibition that includes all the key authors of the so-called "boom" in adult comics, many of whom are still working today.
---