JACK KIRBY, THE KING OF COMICS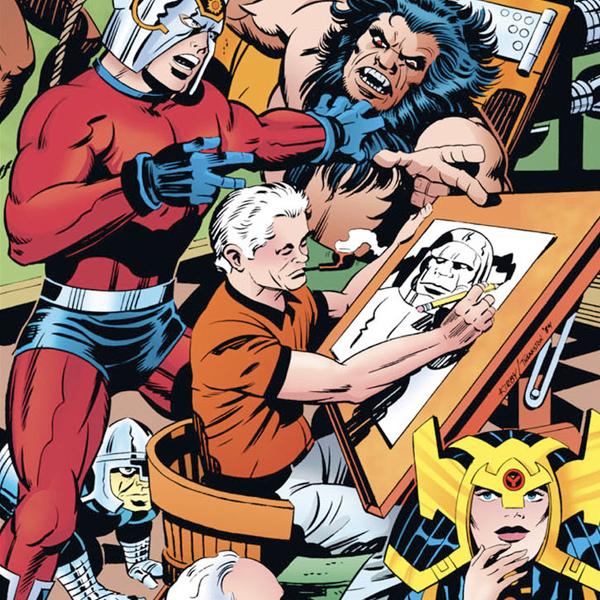 With his own personal style of drawing and his command over the staging, Jack Kirby (1917-1994) became a legend and a key reference in comics.
In the first twenty years of his career he became known for the work done in conjunction with writer Joe Simon, which included some very successful romantic comic books as well as some of superheroes, notably Captain America, created in 1941. Between 1958 and 1970 and from 1976 to 1980 he was one of the most outstanding artists at Marvel, the publisher, for which, along with the editor and writer Stan Lee and other artists, he created extremely popular superheroes such as the Fantastic Four, Hulk, Thor, Iron Man, Black Panther and members of groups like The Avengers and X-Men.
Between 1971 and 1975, for DC Comics, he worked on titles like Superman's Pal Jimmy Olsen, OMAC, Kamandi and The Demon, most notably for creating the concept of "The Fourth World", which included series like New Gods, Mister Miracle or The Forever People. Jack Kirby also produced a newspaper cartoon strip, Sky Masters of the Space Force, and was a character designer on various animation television series. His drawings for the adaptation to film of a Roger Zelany novel, that was never actually made, were however used by the CIA to get various hostages released who had been held in the American Embassy in Iran in 1979. They made out that the Americans were working on a film and actually scouting for outdoor locations in Iran.
The exhibition Jack Kirby, The King of Comics will be divided into two sections. In the first, the author's whole professional career will be reviewed including texts and reproductions, explaining why he is regarded as "The King of Comics". In the second part visitors will be able to see a selection of his original work, belonging to some of his best loved series.
It should be noted that it is not usual to enjoy an exhibition of originals by Jack Kirby. If in the United States they have not seen much publicly, even less in Europe. Therefore, this is a sample that can be considered as one of the few occasions to enjoy live, in this case, 31 originals by Jack Kirby.
---