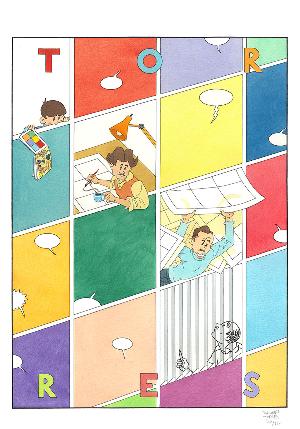 Daniel Torres: the architecture of cartoons
The enriching and personal creative universe of Daniel Torres, winner of the Grand Prix of Comic Barcelona 2022, is the protagonist of an exhibition that addresses the most important aspects of his work with the aim of offering the broadest possible sample of his entire career.
The exhibition is divided into ten sections, in which we will learn about both his references and how were his first steps into the world of cartoons, as well as the curiosities of such charismatic characters as Claudio Cueco, Opium, Roco Vargas or Tom. There will also be space for his more personal works such as Sabotaje (Sabotage), El octavo día (The Eighth Day), El ángel de Notre-Dame (The Angel of Notre-Dame), Burbujas (Bubbles), La casa (The House), Picasso en la Guerra Civil (Picasso in the Civil War) or El futuro que no fue (The Future that Wasn't). We will review his long career as an illustrator, his short stories and one of his most special works, Toda la verdad sobre lo ocurrido (The Whole Truth about What Happened), a very personal reflection on his forty years as a professional.
We will run through his works with originals in black and white and color, color proofs, sketches, stories and scripts, including unpublished material. Daniel Torres: The architecture of vignettes is a journey into the universe of Daniel Torres, how it has been forged and how does he work.
---